Jackie Skrzynski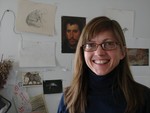 Born: Rochester, NY Studio in Newburgh, NY
Jackie Skrzynski (skrin-ski) grew up one of eight children in a family that moved from western New York to North Carolina when she was a young girl. She believes her southern childhood and Polish Catholic roots contributed to her somewhat gothic sensibility. She earned her undergraduate degree from UNC-Chapel Hill, including a pivotal year in Spain, and her MA and MFA from the University at Albany, NY. Her artwork has been widely exhibited at universities and galleries, including mostly recently at The Seligmann Center, Theo Ganz Studio, Morehead State University, and a repurposed slaughterhouse outside of Paris, France. In 2018, she was awarded a grant from the Barbara Deming Memorial Fund and is a 4-time recipient of the Orange County Individual Artist award.
Beyond her studio practice, Skrzynski is interested in bringing art to the community in creative ways. She is the founder of
PUG Projects
, which creates temporary art exhibits in transitional, economically diverse spaces. She also created the yearlong outdoor collaborative piece
Silent Walks on the Half Moon
documented in a
blog
by the same name, which has been exhibited at the Dorsky Museum at SUNY New Paltz.
Art Historian Carol Duncan wrote that "Jackie's imagery avoids completely the cute, the cuddly, and the sentimental,…If she breaches the boundary between the human and the animal, she does so to challenge its veracity and retrieve something of value on the other side."