Jackie Skrzynski
Trophy Shot Series and Related Works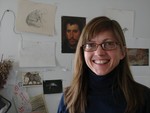 Born: Rochester, NY Studio in Newburgh, NY
Jackie Skrzynski (skrin-ski) grew up one of eight children in a family that moved from western New York to North Carolina when she was a young girl. She believes her southern childhood and Polish Catholic roots contributed to her somewhat gothic sensibility. She earned her undergraduate degree from UNC-Chapel Hill, including a pivotal year in Spain, and her MA and MFA from the University at Albany, NY. Her drawings have recently been exhibited at Theo Ganz Studio in Beacon, NY, Morehead State University in Kentucky, the Arc Gallery in San Francisco, Les Abattoirs d'Avallon in France and Tribes Gallery in New York City.
Beyond her studio practice, Skrzynski is interested in projects that bring art to the community in creative ways. She is the founder of
PUG Projects
, which creates temporary art exhibits in transitional, economically diverse spaces. She also created the yearlong outdoor collaborative piece
Silent Walks on the Half Moon
documented in a
blog
by the same name, which has been exhibited at the Dorsky Museum at SUNY New Paltz.
Skrzynski is inspired by what she perceives as an arbitrary boundary between humans and the natural world. Whether she is riffing on mythology and parenthood or hunters and their trophy animals, she makes work that is both beautiful and unsettling. Her drawings range in scale from a few inches to several feet, and engage the viewer with the physical properties of her mark-making.
Art Historian Carol Duncan wrote that Jackie's imagery "avoids completely the cute, the cuddly, and the sentimental,…If she breaches the boundary between the human and the animal, she does so to challenge its veracity and retrieve something of value on the other side."