Jackie Skrzynski
Trophy Shot Series and Related Works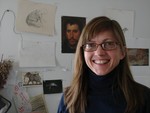 Born: Rochester, NY Studio in Newburgh, NY
Jackie Skrzynski (skrin-ski) grew up one of eight children in a family that moved from western New York to North Carolina when she was a young girl. She believes her southern childhood and Polish Catholic roots contributed to her somewhat gothic sensibility. She earned her undergraduate degree from UNC-Chapel Hill, including a pivotal year in Spain, and her MA and MFA from the University at Albany, NY. Her drawings have recently been exhibited at The Seligmann Center, Theo Ganz Studio, Morehead State University, the Arc Gallery, Les Abattoirs d'Avallon in France and Tribes Gallery in New York City.
Beyond her studio practice, Skrzynski is interested in projects that bring art to the community in creative ways. She is the founder of
PUG Projects
, which creates temporary art exhibits in transitional, economically diverse spaces. She also created the yearlong outdoor collaborative piece
Silent Walks on the Half Moon
documented in a
blog
by the same name, which has been exhibited at the Dorsky Museum at SUNY New Paltz.
Throughout her career, Jackie Skrzynski's work has challenged physical and psychological boundaries between humans and nature. Most recently, she collapses the perception of interior and exterior space, suggesting similarities between botany and anatomy. Skrzynski describes her references as pulling from facial features, nerve cells, tree roots and vines. Her daily walks through the woods near her home provide inspiration and a sense of connection with a larger natural system. Observing growth, decay and rebirth, she intends to convey her perception of nature as equally beautiful and unsettling. In the safety of the studio and through the act of drawing, she depicts what she finds visually compelling, allowing her subconscious to manifest through imagery and mark making. Ranging in scale from a few inches to several feet, her works engage the viewer with texture, form and light.
Art Historian Carol Duncan wrote that Jackie's imagery "avoids completely the cute, the cuddly, and the sentimental,…If she breaches the boundary between the human and the animal, she does so to challenge its veracity and retrieve something of value on the other side."